Introduction to Finding Resources
There are currently three ways to discover resources in the GeoHistory database.
Using the Resource Browser
The Resource Browser allows you to view the full list of resources available through the GeoHistory website. You can also select categories within the browser to locate resources of a particular type, for a particular area, or from a particular partner institution.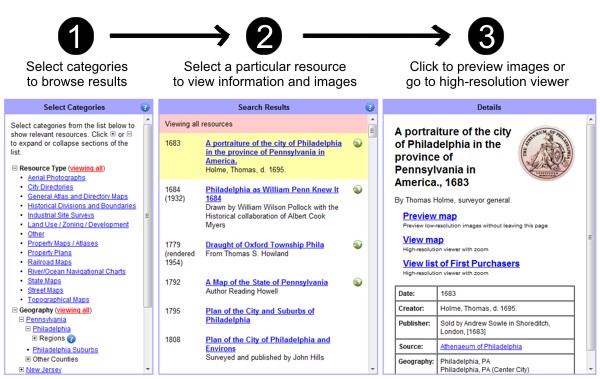 Read more about:
Searching by Address
Some resources have been geo-referenced, with the outline of the historic map having been plotted with geographic coordinates. With the help of Google's address lookup features, GeoHistory can take an address in or near Philadelphia and provide a select list of maps on which the provided address can be found.
To use this feature, click the Search by Address link within the Resource Browser.
Interactive Map Viewer
One of the coolest ways to view historic atlases and maps is through "seamless" mosaics mixed with current street data and aerial photographs in a Google Maps interface. To use the Interactive Map Viewer, choose it from the top-right of the page.